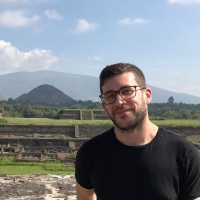 Who are you? Please introduce yourself
My name is Matthew, I am a translator working from Spanish and French into English (the bulk of my work is ES>EN). I've been translating in some capacity for about eight years now. I was born in the north of Scotland, grew up in Northumberland, and studied languages at the University of Manchester.
After graduating, I spent about a year working in the tourism industry in France before moving back to the UK to work in an advertising analytics company where I translated French and Spanish TV ads. I then moved to Madrid, Spain, where I stayed for around 4 years and held a few in-house translator positions before going freelance.
I've just finished an internship in editing at the EU Parliament in Luxembourg and I'm now getting back into the swing of things with freelancing.

Do you translate, interpret, or both? What are your areas of specialism?

I only translate – I get tongue-tied talking in one language, never mind two! I mainly translate marketing materials in the fields of tourism and renewable energy.
Why did you decide to get into translation or interpreting?

Languages were my favourite subject at school and I think I always wanted to become a translator.
What's your favourite type of project?
I really enjoy projects that require a bit of creativity and that give you some scope to move away from the original. I think the most fun thing I have ever translated was a comic telling the history of a renewable energy company. I also once got to translate the texts for an art exhibition, which was really interesting.
In the past year or so I have been involved in a couple of revision clubs and I really like the collaborative aspect – I hope to get to do more of this in my paid work.
What do you do outside of translation or interpreting?
Travel, hiking, food, learning bits of new languages – the usual translator-ly pursuits!
Matthew Dykes is a French and Spanish to English translator working with marketing and tourism texts.